Bayside High School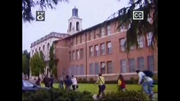 Bayside High School is a fictional school in San Francisco, California, where Raven Baxter, Chelsea Daniels and Eddie Thomas go. Its mascot is a barracuda. They have a basketball team called the Bayside Barracudas, which Eddie is on.
Known Students
Ben Starky
'Big D'
Nicki Peterson
List of Famous People that have visited Bayside High School
Rayne Bow - she performed at a benefit concert there in 'Rae of Sunshine'
Boyz 'N' Motion - they performed there after Raven had promised Bianca, Muffy and Loca that they would beat the school dance
Ad blocker interference detected!
Wikia is a free-to-use site that makes money from advertising. We have a modified experience for viewers using ad blockers

Wikia is not accessible if you've made further modifications. Remove the custom ad blocker rule(s) and the page will load as expected.