ACTOR
{{{actor name}}}
{{{image}}}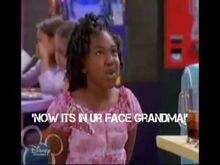 Jordan Moseley is an American actress who portrayed Nadine Carter.
Selected filmography
Be Cool (2005) .... Deshawn
"ER" .... Carolyn Trager (1 episode, 2004)
"All of Us" .... Lori (1 episode, 2004)
"What I Like About You" .... Dance Student (1 episode, 2004)
"That's So Raven" .... Nadine (2 episodes, 2004)
Woman Thou Art Loosed (2004) .... Michelle, Age Six
"Andy Richter Controls the Universe" .... Little Girl (1 episode, 2002)
"The Parkers" .... Loquesha (1 episode, 2001)
Ad blocker interference detected!
Wikia is a free-to-use site that makes money from advertising. We have a modified experience for viewers using ad blockers

Wikia is not accessible if you've made further modifications. Remove the custom ad blocker rule(s) and the page will load as expected.