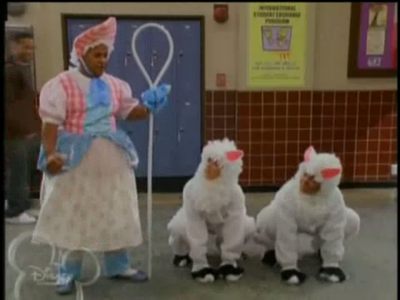 Members Only 
is the 16th episode of 
Season 4
.
Summary
When the Baysides "The Sigmas" group is interested in Eddie for being a lady's man, Eddie makes Raven and Chelsea pretend to be his girlfriends. But when a member of The Sigmas finds out he's faking, The Sigmas make him do ridiculous (Clean Lockers with Toothbrushes, Eddie dressed as Little Bow Peep). Then they get revenge when Raven has a vision that The Sigmas find out Eddie's not a lady's man by spilling beans on them but we're gonna let him in. But not anymore for spilling beans on them
Subplot: Cory accidently loses a cricket in the house that keeps Cory and Victor awake all night.
Ad blocker interference detected!
Wikia is a free-to-use site that makes money from advertising. We have a modified experience for viewers using ad blockers

Wikia is not accessible if you've made further modifications. Remove the custom ad blocker rule(s) and the page will load as expected.