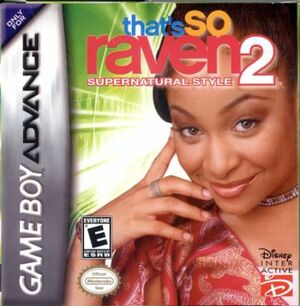 That's So Raven 2: Supernatural Styles was released on July 26, 2005. It's the second video game in the That's So Raven video game series, and the second game in the series to be released for Game Boy Advance. Published by Disney Interactive and Developed by Disney.
Plot
Raven's heading to a fashion show, but she ends up running late. She runs all over the place from school, to the mall, the zoo, science fiction convention center, and a concert. She also needs to find accessories to complete her fashion line.
Ad blocker interference detected!
Wikia is a free-to-use site that makes money from advertising. We have a modified experience for viewers using ad blockers

Wikia is not accessible if you've made further modifications. Remove the custom ad blocker rule(s) and the page will load as expected.