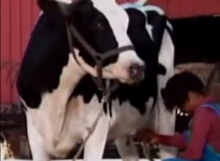 Trixie
is the family cow owned by
Raven's
extended family seen in the episode "
Country Cousins
"
Appearance
Trixie appears in "Country Cousins" and is shown to be the dairy cow for Raven's extended countryside family, who have had a feud with Raven's family for a long time. She was seen being milked by Betty Jane and then by Chelsea. Raven then came out in a suit with a cow pattern and struggled to milk Trixie, when she did she ended up hurting and angering Betty Jane. Trixie is a Holstein dairy cow.
Notes
Trixie is not the first cow to appear on That's So Raven. The first two were the ones that milked her, Raven and Chelsea, who were turned into cows in "Don't Have a Cow". Though no references to the episode are made since it was a vision, Chelsea mentions that she is a "total cow magnet."
Ad blocker interference detected!
Wikia is a free-to-use site that makes money from advertising. We have a modified experience for viewers using ad blockers

Wikia is not accessible if you've made further modifications. Remove the custom ad blocker rule(s) and the page will load as expected.